China Poblano – The Menu and Dishes
One Stop for Delectable Chinese + Mexican Favorites
Fancy eating tacos side by side with dimsum? How about watering food down with Chinese cocktails or maybe, say, margarita? You reckon that would not be possible but yes it is! Thanks to China Poblano and its delectable Chinese and Mexican dishes, you can experience appetizing Chinese and Mexican favorites in one Vegas restaurant.
Price Level
China Poblano has $30 and under price range. The cheapest offering – Lotus Chips – is available at $3 while the most expensive – Enmolada de Mole Negro con Bistec at $20. The dish includes grilled hanger steak, mole chichilo negro and fresh tortillas.
However, China Poblano has special offerings of Tasting Menus especially curated by Chef José Andrés. You can choose between Chef's Experience and José's Way. Chef's Experience is at $55 per person and includes dishes that gives a culinary tour of China and Mexico's favorite traditional and modern flavors. José's Way ($75 per person) is a selection of José's unique and adventurous culinary choices especially selected by the renowned chef himself.
For drinks, the restaurant has Modela Especial bottled beer, the cheapest at $2 and Collectibles of Tequila and Mezcal Flights with house-made sangrita on a pricey side of $42 dollars.
The Chef's Tasting Menus also features The China Poblano Cocktail Experience available for $32 per person and includes four of China Poblano's unique cocktails inspired by Mexico and China that are made to perfectly pair and complement the dishes on the Tasting Menu.
Best Dishes
China Poblano's best dishes from foodspotting.com – Salt Air Margarita Carnitas Tacos and Twenty Vegetable Fried Rice
The mouthwatering Carnitas Tacos at $6 a piece seems to be everyone's favorite. It contains fresh, house-made tortilla and flavorful braised pork that is topped with salsa verde cruda and garnished with crispy pork rinds. The result is a star dish that captures the eyes and palate as it drips in colors and flavors.
Another China Poblano favorite is the vegetarian-friendly Twenty Vegetable Fried Rice. The Food Network once featured this healthy dish on its program "The Best Thing I Ever Ate" and at $19.88 the popular dish includes fried rice topped with a variety of fresh, seasonal vegetables which results in a unique and modern twist on the traditional Chinese staple.
Amongst the drinks, nothing shines brighter than Chef José Andrés' personal creation, the Salt Air Margarita ($16). This drink reflects the chef's popularity in creating avant-garde culinary wonders. It contains fresh lime juice with tequila blanco and topped with the chef's exquisite salt foam. No wonder it is the restaurant's signature drink, as the salt-infused foam on top of the margarita is a unique twist on this traditional Mexican libation. Once your lips have touched the salty foam and your tongue has tasted the playful margarita, you will probably ask for another Salt Air Margarita.
The Food Menu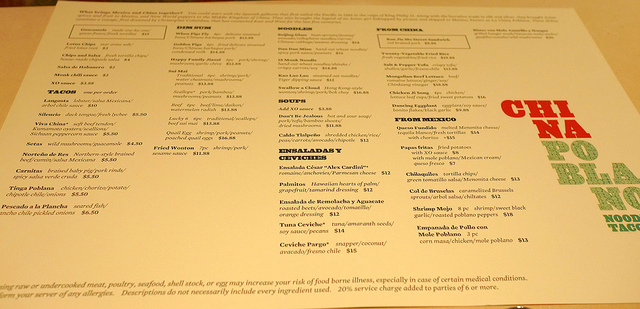 Source: Flickr. Author: Jan Mark Holzer
China Poblano's menu offer a good balance between Chinese dishes and Mexican dishes. Choose among the restaurant's offering of different tacos, dimsum, soups, noodles and ensaladas y ceviches. There is also a selection of Chinese favorites and Mexican favorites and of course, the Tasting Menus which offers a careful mix of Chinese and Mexican dishes in just one order.
This error message is only visible to WordPress admins
Error: No feed found.
Please go to the Instagram Feed settings page to create a feed.
The Drinks Menu
The drinks menu offers more than 50 drinks and you can choose amongst Chinese cocktails, Mexican cocktails, Margaritas, Tequila and Mezcal Flights, Wine by the Glass, Bottled Beers, Specialty Beers and Alcohol Free Drinks, Sodas, Teas and Coffee.
A special section in the drinks menu offers Specialty Beers which suggest recommended pairings for your desired food. Take for example, Saison Dupout is the recommended pairing for Carnitas Tacos or Quezo Fundido while Westmalle Trapist Ale Tripel is recommended to be best paired with either When Pigs Fly or Chicken Ji Song.
Check out the official menu of China Poblano at the Cosmopolitan of Las Vegas here.