Fitness and Sports
Get a Hot Cosmo Body
You get your sports and gym fix here. The Cosmopolitan of Las Vegas offers Pro Tennis Lessons to suit your goals and individual needs and has two state-of-the-art fitness centers located in both Eastside and West End Towers. Whether you are a pro fitness buff or just trying to shred the extra pounds from your recent food splurge, the Cosmo has the suitable training for you including a unique outdoor yoga and pilates sessions at the Bamboo Pool. You can also choose between the 2,087 square feet fitness center at the Eastside Tower or the much bigger 5,250 square feet fitness center at the West End Tower. The choice is definitely yours!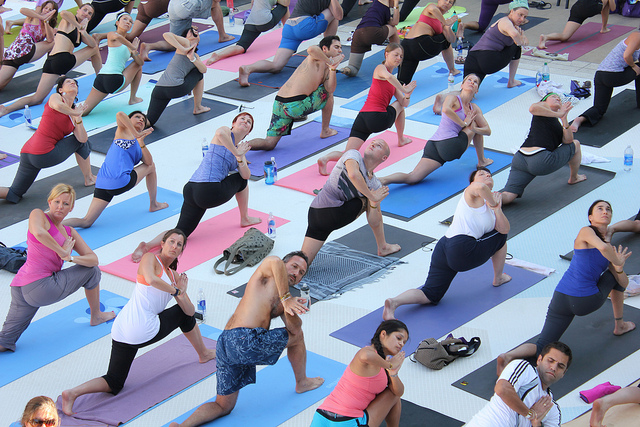 Source: Flickr. Author: The Cosmopolitan of Las Vegas
Fitness Amenities
Aiming for a healthy lifestyle has never been more popular and you can definitely do that while vacationing in Vegas and staying at the Cosmo. Essentially, the two gyms are equipped with similar amenities but can offer two different fitness experience as the West End Fitness Center is bigger and included some specialized training equipments and services. Whilst the Eastside Tower Fitness Center is exclusive only to hotel guests, the West End Tower Fitness Center (charges $25 dollars or more depending on your training) offers more treadmills, more elliptical machines plus a movement studio, a kinesis wall for all fitness levels, a space for resistance training, a free weight area and tennis courts. Talk about a perfect haven for the gymholics, the West End Tower Fitness Center is definitely it!
Here are more details about these two Cosmo fitness centers:
EASTSIDE  FITNESS CENTER

Equipments, Amenities & Additional Info

WEST END FITNESS CENTER

Equipments, Amenities & Additional Info

Location: Eastside Tower Level 15

Open: 24 hours, hotel room key required

2,087 square feet
Personal lockers
State-of-the-art technogym equipments
7 treadmills
5 elliptical machines
2 upright fitness bikes and 2 recumbent fitness bikes
Resistance strength equipment
Stretch area
Free-weight area

Location: West End Tower Level 14

Open: 5AM – 8PM

5,250 square feet
Personal lockers & lounge area
Stretch area with stretch trainer
State-of-the-art technogym equipments
10 treadmills
6 elliptical machines
Technogym Wave
Upright fitness bikes and 2 recumbent fitness bikes
Movement studio
Resistance strength equipment and free-weight area
Tennis courts
Kinesis Wall
Personal training and group fitness
Want more? You can totally do more as you burn your calories at the hottest fitness trend that are available at the West End Tower Fitness Center, you can choose between joining the Sweat 60 Boot Camp or individual specialized training for tennis on a professional level. The Sweat 60 Program costs $15 for 60 minutes of high-intensity exercises that would make you sweat and burn almost 1000 calories an hour. This training combines boxing, plyometrics, strength training, and core stability exercises and is suitable for both old and new fitness enthusiasts.
The hotel also partners with FITiST Collective and offers the most innovative fitness and wellness platform such as the Tracy Anderson Method, SLT from New York, Barry's Bootcamp, Yoga for Bad People, Hollywood Hino Training Camp and the night-inspired cardio party that is 305 Fitness.
You may also avail of West End Fitness Center's Individual Training Program with a certified trainer that can tailor your fitness regimen to your  physical and fitness needs and help you achieve your fitness goals. It costs $95 for a 60-minute session.
Yogis can also find solace with a pilates or outdoor yoga fix at the West End Tower's Bamboo Pool. The pool provides a soothing and relaxing environment with a canyon-like feel. It also has revitalizing spa offerings in case you want to have extra add-ons after your yoga session. You may contact the Bamboo Pool to know more about its yoga and pilates session at tel. no: (702) 698-7000.
Sports at the Cosmopolitan
Those on the sporty side will enjoy a training session with a professional tennis coach at the West End Tower's Fitness Center. The Tennis Pro Lessons offers you the opportunity to join a private tennis lesson tailored to your needs and focused on improving your performance. You can reserve your solo lesson for the price of $125 for 60 minutes by calling the Cosmopolitan Fitness Center at tel. no: (702) 698-7171.
Reviews
Well-maintained equipments, clean environment and numerous machines and workout equipment make these two Cosmo fitness centers amicable to its gym goers and users. A reviewer from Yelp.com – Brad H. – say of his experience at the West End Fitness Center, "this is by far one of the best hotel fitness centers I have ever been," while another yelp account user – Jennifer C. said that the East Side Tower's Fitness Center is very clean and well-maintained without being packed, "they manage to fit a good amount of machines in a small space without having it feel cramped," added the reviewer.
To read more Yelp reviews of these two fitness centers, click here. You may also find reviews from TripAdvisor mentioning the hotel's fitness facilities here.
More yelp photos of the fitness centers here and check out the official fitness center page of the Cosmopolitan of Las Vegas by clicking  here.