China Poblano
The Pros and Cons of a Chinese-Mexican Restaurant
Worlds apart but China Poblano pulled the connection. Two popular food cultures from different parts of the globe made available in one Cosmo restaurant, who would have thought! Customer ratings are high which means that Chef José Andrés  succeeds in this unusual undertaking of East and Latin culinary hodgepodge.
China Poblano Ratings
| | |
| --- | --- |
|   | On Yelp, China Poblano has more than 1,000 reviews and has more  than 1,000 photos. Many reviewers mention China Poblano's  interesting combination of Chinese and Mexican foods. |
| | On TripAdvisor, China Poblano has over 900 reviews and 200 photos posted by customers rating the restaurant as overall excellent.. The restaurant is a recipient of TripAdvisor's Certificate of Excellence for consistently earning great reviews from travelers. Couples, friends and business guests are the "traveler types" that mostly frequent China Poblano according to TripAdvisor. |
| | On Foursquare, China Poblano has been rated more than 500 times with more than 200 tips and more than 700 photos. Foursquare ranked China Poblano as number 5 amongst dimsum places in Vegas. |
| | On Zomato, China Poblano has more than 200 votes, 66 reviews,  and 77 photos. |
| | On OpenTable, China Poblano has more than 1,000 reviews and there are more than 90 photos posted by reviewers of their foods. You can also use OpenTable to find and reserve a table for this innovative restaurant. |
Vegas Reviewer Direck of All You Can Vegas posted a Youtube video of his experience at China Poblano on January 4, 2016 and noted that China Poblano has some of the most unique tacos in Vegas.
The reviewer said about this Chinese-Mexican restaurant, "it is not fusion but it has some of the most unusual and interesting takes on both of these cuisines." The reviewer tried the different tacos China Poblano offers as well as the Chinese favorite Rou Jia Mou Sandwich and described the contents of the dishes he tried. "There are so many things to order here, I just wanna order everything," says the reviewer before his 3-minute video ends.
Good Reviews of China Poblano
Good reviews of China Poblano come aplenty. Guests are amazed at the restaurant's innovative servings of Chinese and Mexican foods and the two open kitchens in front of the restaurant. Many good reviews also made mention of China Poblano's good service, charming decor, and of course the culinary wonder of renowned Chef José Andrés, of which many guests made delightful mention of the restaurant's Tasting Menu ($32-75 per person) and said that they are generously-served and definitely a must-try.
On TripAdvisor, a reviewer with the username Ginacm1331 posted on September 2016 her good experience at China Poblano. "We sat at the bar for midday lunch after the pool, Christopher was our bartender and he was just fantastic. He was super knowledgeable about the food and chatted with us the entire time! He was making some interesting craft cocktails and was telling us about them as he made them. He just made it a fun experience!"
Wendy Quinn, a guest of the restaurant on August 2014 posted her delight about China Poblano on Foursquare, "So happy to get delicious Mexican and Chinese in the same meal! The dumplings are fantastic!"
Virginia T. posted on Yelp on September 2016 about China Poblano's attentive service and it's signature drink, the Salt Air Margarita, "The restaurant was mostly empty on a Tuesday evening so service staff was very attentive. Also don't skip the drinks – the Salt Air Marg is definitely one of the better margaritas I've had."
On Opentable reviews, VIP account user Jburgart posted about his experience when he visited the restaurant on August 2016, "I've never had a bad meal at a Jose Andres restaurant and this one did not disappoint. The dishes were pleasantly surprising and completely delicious. And service was impeccable."
Another reviewer from Zomato – William Hammock – posted on August 2013 and highlighted his observation about casual tapas-style dining on China Poblano,"This is a place where you come with a few friends, you each order 2 items and you all share and try them. This place has some amazing flavors, but it's best not to order only one thing because that might be the one thing that doesn't connect with you."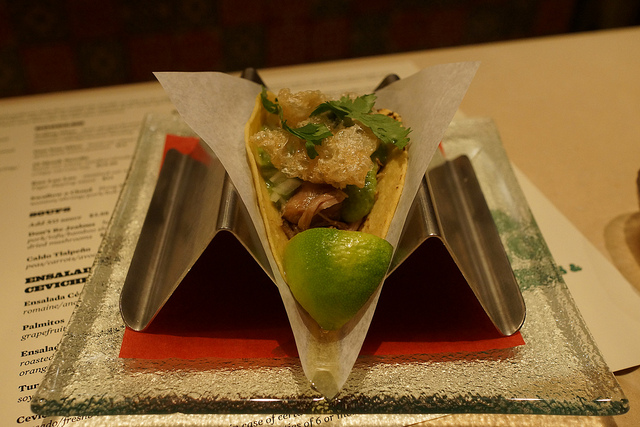 Source: Flickr. Author: Jan Mark Holzer
Bad Reviews of China Poblano
Small servings, pricey menu, and long wait to get served are the basic complaints about China Poblano. As China Poblano has tapas-style, their servings are deemed by some guests as small portions. While some guests complained about China Poblano's pricey menu, other guests understand it as Vegas-standard dining. The restaurant's long waiting time, as claimed by some guests, are sporadic and does not appear as a trend. China Poblano is not without faults, as reflected by guests' bad reviews. However, bad reviews of China Poblano are sporadic and posted once in awhile. Overall, good reviews still dominate the online reviews of this Chinese-Mexican restaurant. Here are some of China Poblano's bad reviews:
Google reviewer Michelle Lopez posted her review on Google, March 2016, "Don't eat here service is so slow and food is overpriced. The  pozole is horrible it's so salty and doesn't taste at all like pozole.It took them 30 minutes to service our food."
On Foursquare, reviewer Joshua Haftel posted what he thinks of China Poblano on January 2016, "It's as you would expect, neither their Chinese nor their Mexican options are that great, but both are passable."
From Yelp, reviewer Zeta H. posted on September 2016 the specific foods she ordered from China Poblano and how it did not satisfy her palate plus the pricey menu, "I was very underwhelmed by the food and service. We had Scallops Siu Mai, Ants Climbing a Tree, fish and chicken tacos, and the land pot stickers. The flavor was definitely lacking and the price was higher than I would have liked to pay for the quality of food we received."
On July 2015, Zomato account user L.A. posted on the website about his China Poblano experience, "The food here is mostly served Tapas Style (that means small plates). I decided to try a fish taco and to shared the 20 vegetable fried rice since the rice dish was featured on Food Network TV on "The Best Thing I Ever Ate" TV Show. For me the fish taco was not bad but disappointing…Also the single corn tortilla was thin and got soggy. The 20 vegetable fried rice looked beautiful with all the vegetables but once you started eating it tasted like any cheap Chinese Take Away."
On Opentable China Poblano page, a reviewer with account name marcanddaniel dined at China Poblano on August 2016 and posted a review, "This restaurant was highly suggested and we were unimpressed. Bench seating was difficult to get comfortable on. Food came from different kitchens in an odd order. Waiter was either there pressing to take our order or totally disappeared. Food was not as fabulous as everyone said it would be."
Lastly, TripAdvisor reviewer marcelonyc posted on August 2016 his disappointment dining at China Poblano, "I visited the place looking for a Mexican or Chinese soup, was seating at the bar and the bartender recommended a Chinese soup. Service was very slow and the soup flavorless. very disappointed also the charged $16 for a very small bowl of insipid soup."
Read More Reviews of China Poblano
For more reviews and restaurant articles of China Poblano, check out the following pages: