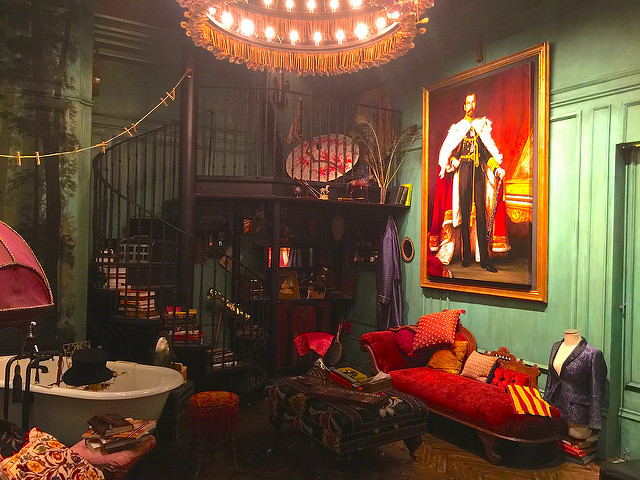 Rose.Rabbit.Lie
Dining with Unrivaled Entertainment
Both a restaurant and a nightclub, every visit at this innovative supper club is a unique experience. Enter the magical and elegant world of Rose.Rabbit.Lie at the Cosmopolitan of Las Vegas and enjoy its unique blend of vanity and spontaneity as reflected in the restaurant's decor, foods, drinks and live show. Experience the restaurant for:
Surprising takes on American classics

Live music and entertainment

Globally-inspired menu by Chef Dan Rossi

Signature dishes: Caviar Tacos, Oyster Rockefeller, Beef Wellington

Signature drink: Whiskey Smash
Opening hours

Wed – Sat: 6PM – Midnight

Nightly Live Entertainment: 7PM

Reservation Contact

Reserve a table through the Cosmopolitan of Las Vegas

Phone: 702.698.7969

Location

West End, Level Two

Group Reservations

For groups of 13 or more, call 877.551.7776 or fill out this form
Price Range:
From $15 to $1,200
Find Rose.Rabbit.Lie at:
American Classics with Modern Twist
Signature dishes include the playful take on caviar – Caviar Tacos – which is made with hackleback caviar, a Yukon gold potato shell, and a Japanese amberjack called hamachi. This has become a crowd favorite which was voted 2014's "Best Small Plate" by the Vegas Seven. There is also the pleasingly rich Oyster Rockefeller which is made with house-cured bacon, chartreuse, spinach and bacon dust. Beef Wellington is given an extra sizzle with prime tenderloin in a puff pastry atrium added with seared Hudson Valley foie gras, creamed spinach, black truffle and roasted king trumpets. Another signature dish is the restaurant's Cookie Jar which includes a hodgepodge of sweet treats that would surely bring you to sugarland. For drinks, try the perfect liquid combo of Whiskey Smash – redemption rye, mint, fruits and muddled lemon. You can find the menu here.
Social Club Dining Experience
Rose.Rabbit.Lie feels like a mysterious dining space, where you can sit and enjoy your food and drink and thereafter spend time at the lounge or bar area where you will be amazed by tap dancers, contortionists, magicians and DJs in their creative and spontaneous performances. You can move from room to room at the restaurant's opulent spaces and decide how you spend your evening.
Inspired by the social clubs of the past, the restaurant serves superb American classics with modern twist – 1920 meets 2019. The restaurant's chef, Chef Dan Rossi, is known for his skillful and eclectic culinary inventions and reinventions. His culinary experiences included heading the kitchen at some of Las Vegas' famous institutions – Wynn Resorts Vegas, Eiffel Tower Restaurant and Scarpetta Las Vegas. Opentable, an online restaurant reservation and reviews website, named Rose.Rabbit.Lie as one of 2016's 100 hottest restaurants in America.
The Cosmo always wants to make things interesting and the hotel delightfully succeeds with Rose.Rabbit.Lie. Talk about tap dancing, burlesque-style performances, and DJs in spunky musical spin. Yes, the restaurant dispenses not only your culinary favorites but also your favorite show – half-theater and half-nightclub and definitely Vegas style. Dress code is casual elegant so dress your best and enjoy the joyful atmosphere that only Rose.Rabbit.Lie can pull off.
The restaurant is located inside The Cosmopolitan of Las Vegas, 3708 S Las Vegas Blvd, Las Vegas. Find the location of the restaurant here.
Reviews
Restaurant guests enjoy the energetic and fun atmosphere of Rose.Rabbit.Lie. Most reviews mention the extra effort the restaurant makes just to give a memorable dining experience from food and drinks to ambience and entertainment. The downside, according to guest reviews, are that food portions are rather small and the menu prices are a bit expensive. Overall, Rose.Rabbit.Lie gets high ratings from reviews website like TripAdvisor and Yelp.
Read more about Rose.Rabbit.Lie
Still want more? Check out more about Rose.Rabbit.Lie on the following pages:
All about Chef Dan Rossi

The menu and dishes at Rose.Rabbit.Lie

The reviews of Rose.Rabbit.Lie