Wraparound Terrace Suite
Dive in Panoramic Views of the Las Vegas Strip

With its 1,200 square feet, 480 square of which devoted to a terrace space plus a to die for panoramic view, Cosmo's guests must get ready to be wrapped around in this Wrap Around Terrace Suite. Composed with urban designed furniture, fixtures and high end amenities, this suite will surely satisfy even the most sophisticated tastes.

Two room accommodation
Max. 4 occupants
King size bed
Two marble-floored bathrooms
Peek-a-boo shower
State-of-the-art kitchenette
Floor-to-ceiling windows

Dive in Panoramic Views of the Strip
One feature of this suite is as the name suggests – a breathtaking panoramic view of the Strip and beyond. The L shaped terrace provides a venue to experience Las Vegas al fresco bliss. The incredible views from this gorgeous accommodation is not easy to miss out on, especially in this part of the Cosmopolitan Hotel Resort & Casino.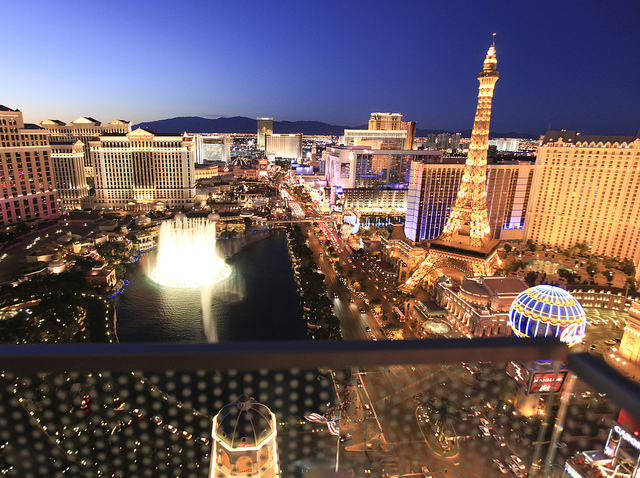 Source: Flickr. Author: The Cosmopolitan of Las Vegas

As you enter the Wraparound Terrace you'll be welcomed by a lovely mirror-lined foyer, that is beautifully decorated with a buffet table and a small crystal chandelier hanging from the ceiling.  As you walk through the entry hallway, to your immediate right you will meet a large piece of contemporary art and a door that leads to a private laundry room. On your right side you will be presented with a standard Cosmopolitan marbled bathroom featuring shower and restroom area.
The Wraparound Terrace comes with a glamorous kitchenette equipped with state-of-the-art appliances such as stove, microwave, dishwasher, wine cooler and a sub-zero refrigerator. In this room area guest will find a fully stocked minibar with distinctive glassware. Please be aware that the minibar is equipped with a sensor, therefore once you have taken an item out, your room will be automatically charged.
The 1,200 square feet suite is designed with classy floor-to-ceiling sliding doors and an oversized living space featuring sleek chaise lounge sofa, perfect for afternoon siesta. In this area Cosmo guests can further enjoy an exquisite dining experience on a circular four-seat dining table.
Live in a Lap of Luxury & Style

Not far from the dining area you'll find telescopic doors splitting the suite's spacious living area and master bathroom in half, which aims at providing guests with an extra hint of privacy. In the living space Cosmopolitan signature furnitures such as contemporary couch, center table, stationary lamps and armchairs can be found. In this part of the room, guests will also enjoy Cosmopolitan's functional office desks built on a perfect balance of work and entertainment amenities all in one.
The bedroom has a king size heavenly bed with standard white sheets, pillows and comforters. One distinct feature of this room is the peek-a-boo window situated above the bed. This innovative interior offers guests a fun and unique note for their luxurious ensuite bathroom experience.
The 1,200 square foot Wraparound Terrace Suite features a luxurious spa-like master bathroom. This sizeable ensuite bathroom is equipped with a shower, bubbler tub, double vanity sink and a separate toilet area. All Cosmopolitan bathrooms come  with trendy C.O Bigelow toiletries.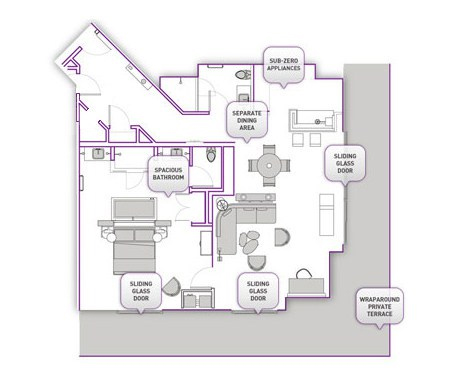 Source: Wraparound Terrace Suite official page at the Cosmopolitan of Las Vegas

Amenities
| | | | | |
| --- | --- | --- | --- | --- |
| Bathroom: | Shower | Makeup /shaving mirror | Complimentary toiletries | Hair dryer |
| Master Bathroom: | Peek-a-boo shower | 2 robes | Slippers | 2nd bathroom |
| Furniture and Furnishing: | Desk | Iron / Ironing board | Premium bedding | Table with seating for 4 |
| Entertainment: | 52inch (132cm) Plasma Screen | Cable/Satellite Television | Plug-in High Tech Room | CNN,ESPN and HBO |
| Electronics: | Alarm Clock | Radio | In Room Sound System | 2 Telephones |
| Electronics: | Outlet With Dual Voltage Adapters | Electronic Check-Out | Electronic Key | Voicemail |
| Service: | Room Service | Daily Maid Service | Wake Up-Calls | |
| Other: | Air Conditioning | Climate Control | Hi-speed Wireless Internet | Wired internet (15$/day) |
What Guests Say about the Wraparound Terrace Suite
According to a review recorded and uploaded on YouTube the 28th of February 2011 by Cosmopolitan guest Eddie Chai, the Wraparound Terrace Suite is very spacious, modern and clean Vegas accommodation. As the name implies the room is equipped with a terrace that is wrapped around the whole suite, presenting guests with vintage views over the Bellagio fountains and Paris to the east, while exploring the hip point of the Vegas Strip and Cosmo Bamboo pool overview to the west. The reviewer rates the room as overall 'pretty awesome' and he seems to be pleasantly surprised to find that the Wraparound Terrace suite's state-of-the-art kitchenette is equipped not only with a refrigerator, but all necessary kitchen appliances such as stove and microwave.
Reviews
Reviewers mention that if you are looking for great views of The Strip this would be the perfect room choice for you. With a king size bed, a Bellagio fountains view and an oversized living space The Wraparound Terrace Suite is a room that will definitely make your trip memorable. The only negative thing mentioned by reviewers is that lower level rooms are often situated near the Marquee Day Club which means that noise disturbance may occur while having the room windows open. Such events however occur only during day time, therefore by closing your windows this problem will be solved. To learn more about The Wraparound Terrace Suite or read more guest reviews please refer to the following link.
Feel free to leave a comment



Your feedback is important to us so we can continue providing you with travel information that meets your needs. Let us know if you have found the travel details you were looking for by rating your satisfaction with our page, or help us improve by leaving a comment below.