City Studio
Appreciate the Power of Art in the Heart of Las Vegas Strip
Boosted with grace, elegance and style, Cosmopolitan's 630 square feet City Studio offers guests some of the best views over the Las Vegas Strip and Nevada Mountains. The City Studio has one king size bed, spacious living area and a bright oversized marble bathroom equipped with a double sink vanity. The combination of stylish furniture, modern art and interior design choices in this gorgeous studio creates a successful interaction between luxury living and warm comfort.
One room accommodation
Max. 4 occupants
One king-size bed
Oversized luxury bathroom
Floor-to-ceiling windows

Lose Yourself in Elegance and Comfort
Upon entering the room you will find yourself in a small foyer that is beautifully decorated with custom wallpaper and large contemporary art piece. At your left you will be presented with a specious marbled bathroom space featuring a luxurious power shower, separate toilet facility, as well as glorious double-sink vanity and accompanied toiletries by C.O Bigelow.
At your right you will find a fully stocked minibar counter and a rich snack tray placed on top of it.
By continue walking through the entry hall you will find yourself in a sophisticated oversized living area featuring high end furnitures such as – a hardwood coffee table, five seat leather lounge as well as two glorious lounge chairs.
Rest Like a Million Dollar Star
Further down the room, on your right you will find a king size heavenly bed with two nightstands for storing your items. On the right side of the bed there is a stationary phone, whereas on your left you will find a large closet for storing all your outfits. Additionally, in each studio guests will find a savebox for storing their private belongings and two 42 inch plasma TVs with cable and satellite television, as well as HDMI connection for your entertainment.
When it comes to receiving a great value for money in Vegas the Cosmopolitan City Suite is definitely one of those hotel accommodations that does not disappoint. Even though these type of rooms do not feature a private terrace space, the premium views of the Bellagio fountains will definitely blow your mind. For availability and prices please click here.

Art Note
The 630 square feet City Studio is whimsically designed to capture your senses and each of the 47 accommodations are equipped with a unique art selection by the popular online marketplace Art Space.
Showcase of the following works can be experienced only in Cosmo Studio Suites:
"Unusual Habits" from Harper's Bazaar (1996) – Artist: Andrea Blanch
"Bubble Bath" (2010-2011) – Artist: Rebekka Guðleifsdóttir
"Bamboo Forest" and "Shelter Island" (2008) – Artist: Bastienne Schmidt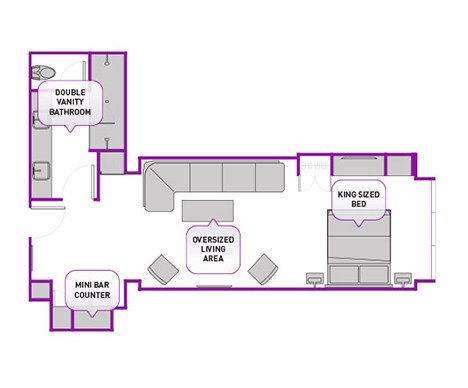 Source: City Studio official page at the Cosmopolitan of Las Vegas

Amenities
Bathroom:
Shower
Makeup /shaving mirror
Complimentary toiletries
Hair dryer
2 robes
slippers
Furniture and Furnishing:
Desk
Iron / Ironing board
Premium bedding
Entertainment:
52inch Plasma Screen
Cable/Satellite Television
Pay-Per-View Movies
CNN,

ESPN and HBO

Electronics:
Alarm Clock
Radio
In-room Sound System
Telephone
Outlet With Dual Voltage Adapters
Electronic Check-Out
Electronic Key
Voicemail
Service:
Room Service
Daily Maid Service
Wake Up Calls
Other:
Air Conditioning
Climate Control
Hi-speed Wireless Internet
Wired internet (15$/day)
Reviews
The reviews for The City Studio on sites are positive. People comment about the great amenities that come with the room. Comments detail the size and luxury of the bathroom, which is larger than the one you get in the City Room. Reviewers mention that the Cosmopolitan City Studio is one of the few rooms in the hotel that does not have a balcony. Even so, the suite's panoramic view is suggested to be better than the one you can experience in the City Room especially if you request a room in Cosmo's west tower. In this case you will be presented with an incredible hip view of the Bellagio Fountains. Additionally reviewers often mention that due to its premium view the City Studio is worth the few extra dollar rather booking the City Room.
Click here for more guest reviews of the Cosmopolitan City Suite or see the unique features of the room presented by the Cosmopolitan of Las Vegas official.
Feel free to leave a comment



Your feedback is important to us so we can continue providing you with travel information that meets your needs. Let us know if you have found the travel details you were looking for by rating your satisfaction with our page, or help us improve by leaving a comment below.