Reception Suite
The Ideal Venue for Supreme Business Functions and Posh In-Suite Parties

Whether holding a mid-day business meeting or a late night social event, the Reception Suite of the Cosmopolitan of Las Vegas provides a charming and comfortable space that can easily be configured and reconfigured to suit guests needs. With its 1,050 square feet room size, this accommodation type is a perfect nook recommended for small parties, social events or business meetings.

Max. 4+ occupants
One room accommodation
One full size pull-down Murphy bed
Eight-seater conference and dining area
Bathroom and oversized shower area
Wet bar
State-of-the-art kitchen

Luxury Reception for Social Functions
Mingle in Vegas! While many come to the city for luxurious vacation and sensational nightlife, the city also tops as one of the most popular business destinations in the USA for 2015 according to Travel and Leisure. Convenient flight options and the abundance of conference and meeting spaces makes Vegas an ideal business meets and gatherings. Aside from this, the city's dynamic environment makes it an ideal place for people to meet and socialize for any kinds of special events. Thus comes the Reception Suite of the Cosmopolitan of Las Vegas, a 1,050 square feet suite perfect for business meetings, in-suite parties and lifestyle events. This highly contemporary accommodation features one full size pull-down Murphy bed, fully-equipped modern kitchen, stylish wet bar, spacious living area, dining table that seats up to eight people and a marble bathroom with oversized shower area. So whether you want to impress a business contract or provide an intimate and luxurious special event for your family or friends, the Reception Suite is definitely an attractive option for you.
Impress in Business

The spacious living area equipped with cozy sofas and cushions makes for a comfortable space for a quick catch up or get-to-know-each-other before you walk to the dining area where you can hold your meeting in an 8 seat  dining table that can be conveniently used as a conference table. Well-furnished and well-lit, the suite is bedecked with gracefully-placed paintings on the wall, a coffee table, extra seats and basic hotel amenities. A flat screen TV placed across the dining area can be connected to a computer for presentation purposes and an additional TV in the living area for entertainment. Away from the dining area guest can find a state-of-the-art   kitchen featuring sub-zero refrigerator, microwave oven and an ample space for cooking and serving food which is very convenient for those having meetings that include lunch, dinner, or in-between snacks. When there is food, drinks are necessary. It may be champagne for a welcome drink or red wine for a celebratory drink to say "cheers" after a successful business contract. Worry not and raise your glass instead! The Reception Suite has a fully-equipped bar space which is perfect for drinks when the occasion calls for it.

Fancy for In-Suite Parties

Talk about lifestyle events, social gathering and the likes, the Reception Suite can be reconfigured and transformed to a fully functioning space for events offering  guests an unrivaled experience whether it is with family, friends or social contacts. Transform the suite into a venue for a bridal shower or wedding reception and surround it with flowers, cookies, cakes, and all things colorful and yes, that is possible. Or maybe you want to host a lifestyle networking event so bring in some champagne and small eats, rearrange furnitures for a wider living room area and pull up the Murphy bed and bam! You got a space for your perfect event. Or maybe you want to stay the night with your friends, chat the night away and fill it with some dancing and drinking here and there. Not a problem, the Reception Suite can be transformed into a fully functioning suite for sleepovers with its full size pull-down Murphy bed and a bathroom equipped with a shower, towels and toiletries.
The Cosmopolitan of Las Vegas can also help with organizing an event on your behalf from rearranging the suite to coordinating with food, drinks and other specific details you need to have for a flawless event. Contact the hotel for special events and catering here.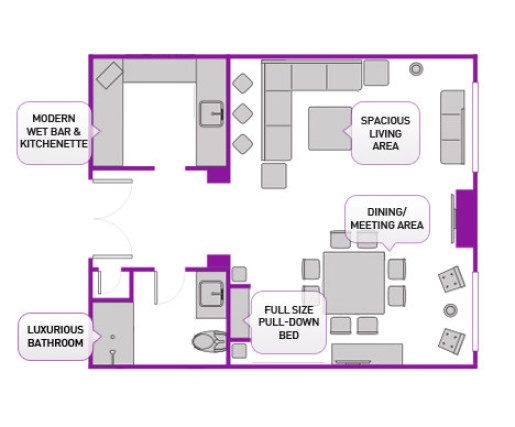 Source: Reception Suite official page at the Cosmopolitan of Las Vegas

Amenities
| | | | | | |
| --- | --- | --- | --- | --- | --- |
| Bathroom: | Sink and Toilet | Makeup Mirror | Complimentary toiletries | Walk-in Shower | Towels |
| Electronics: | Two flat screens with satellite television | Radio | Telephone | In-room sound system | Alarm clock |
| Furnishing: | Sofa and cushions | Pull-down Murphy Bed | Dining table and seats | Coffee table | Guest chairs |
| Facilities: | Desk | Robes | Slippers | Iron / Ironing board | Wet bar |
| Other: | Modern art works | Climate control | High-Speed Internet Access: Wireless | Sub-zero refrigerator | Kitchen |
What Guests Say About the Reception Suite
Vegas Room Tours and Beyond posted a Youtube video on December 27, 2014 of the spacious Reception Suite. It starts by showing what you see from the hallway: a large sofa with cushions and coffee table to the right and a bar area to the left. "The room is expensive," says the reviewer as the video shows an elegantly furnished and spacious room with side seats, coffee table, two televisions and top-down curtains on the wall. A few steps bring to the pull-up Murphy bed that can be conveniently tucked when it is not needed. Near the bed there is a dining area composed  with a conference table and seats fronting a TV set. Next comes the spacious kitchen which can also be used as a serving area and bar space. It features a sink, a lot of storage spaces and a completely empty refrigerator. You will also find here a bartending set with different kinds of drinking glasses and cocktail mixers. From the kitchen you walk past the closet area then to the Cosmo-style bathroom with spacious shower, toilet and a sink. Worry not about privacy because unlike the peek-a-boo bathrooms featured in most Cosmo rooms, this suite features a door that can be easily closed for privacy. According to the reviewer the room is "over-all really nice" as there is plenty of living space and a "wide entertaining area".
Reviews
In general, the Reception Suite is not the best choice for family or friends sleepovers as it is more aimed for business meetings and social events. It is equipped with floor-to-ceiling windows yet does not have the splendid view like what other Cosmo suites offer. Yet, if you are staying in Vegas and looking for a space where you can have a space to sleep at night and at the same time invite guests for a meeting or social gathering, this luxurious suite may just be the perfect place for you.
For more information about the Reception Suite, you may call 855-435-0005 or visit the suite's page here. For group reservation, click here.
Feel free to leave a comment



Your feedback is important to us so we can continue providing you with travel information that meets your needs. Let us know if you have found the travel details you were looking for by rating your satisfaction with our page, or help us improve by leaving a comment below.