Room Service
Everything your stomach desires is just a call away
Hungry but just gotten comfortable in bed? The Cosmopolitan Room Service will bring you all of your heart's desires in just a phonecall.
Open 24 hours
Just a call away with the in-room phones
Four food menus
Three drinks menus (including snacks)
Room service packages available for you and your friends
Minibar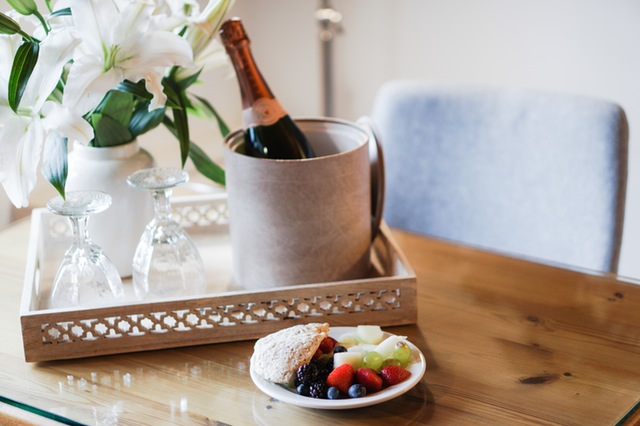 Source: Pexels
Opening hours
24 hours a day –
Please note that each part of the room service menu has specific timeframe.
The menu can be found here.
Contact
roomservicemanagers@cosmopolitanlasvegas.com
RS.Amenities@cosmopolitanlasvegas.com
Within the hotel premisses, room service can be contacted via extension 87878.
Official website
https://www.cosmopolitanlasvegas.com/room-service
The Food Menu
You will find an extensive list of food items available for you in the room service menu, the whole menu (including the drinks section) being an incredibly 22 pages long. So it is no surprise that everything from snacks to whole courses is available to you depending on the time of the day and your personal taste preferences.
The cheapest item on the food menu, you find in the breakfast section – just $2 dollars for a sliced banana. The next cheapest item available is also in the breakfast part of the menu; a pancake with whipped butter and maple syrup, costing $6. The most expensive one person item on the menu can be found under the "From the Land and Sea" section on page eleven; a 14 oz. naturally raised ribeye steak with sides of either garlic roasted fingerling potatoes or whipped potatoes coming at an impressive $42. This dish also features a side of seasonal market vegetables.
More than a couple of people in your room? Worry not, there are options for that occasion as well. For $80 an assortment of baby and garden vegetables with dips suitable for 8 people can be yours. On the other end of the scale is the "Guys Night out" package, containing four 14" Pizzas  of your choice with an added choice of toppings, salty snacks, chips as well as a selection of dips. With the food you also get a mixed case of ice cold beer and a customized bar presented in a steamer trunk. All of this is available as the priciest food package on the menu, at $1500.
The Drinks Menu
If you thought the food menu was extensive, then wait until you've had a look at the drinks! Containing nonalcoholic drinks and wines alike, this wide selection is bound to have something you'll be happy with. Your cheapest option for an alcoholic drink on the menu is found in the "Domestic Beer" section, all costing $6 each. If you are looking to splurge however, then how about a bottle of Louis Roederer champagne "Cristal" Brut from Reims, the most expensive item at $1000?
In regards to non-alcoholic items, the cheapest option available is the $5 glass of milk (with a choice of it being either whole milk or chocolate milk) or perhaps a cup of hot chocolate for the same price. The Illy® Coffee Pot is the most expensive of the non-alcoholic list at $12 for a large pot.
If you are looking to have a party or you are more than a few people in the room, the drinks menu also offers packages of alcoholic beverages: The cheapest package available is the "Mixed Trunk of Beers" consisting of 16 assorted domestic beers. On the other end of the scale you can get the "Platinum Bar Package" for $2350, containing a wide range of spirits, wines, champagnes, beers and more.
For more info on the food and drinks available, the official menu can be found here
Mini-Bar
A mini-bar is also available for use in your room, containing mostly alcoholic drinks, as well as a few snacks.The Mini-bar has a motion sensor system, automatically detecting which items have been removed and/or emptied. Please note that there have been problems with this in regards to the sensor, sometime mistaking moving things around in the mini-bar to actually consuming them.
Please note
$5 will be added to each check as a delivery fee when ordering room service.
Applicable sales tax and 18% service charge will be added to all orders.
You will be charged for things taken or used from minibar
There is a waiting period from ordering to receiving room service, which is stated further in the menu.
Reviews
Guests have both good and bad experiences with the room service of the Cosmopolitan of Las Vegas. The most common complaints are the slow response time of room service, and the high price of the service itself. The time issue is mentioned in this review by Angela R. "The room service just took too long."
When it comes to the issue in regards to the price, it is apparent in this review by David B. "No complimentary coffee in rooms! Even basic 2-star hotels offer a kettle and a pouch of instant coffee – here, no coffee machine. Had to order coffee via room service (starts at $5/cup, then a $5 delivery fee, then and 18% service tax). A complete rip-off." Further down in the review he also notes "Overpriced minibar — do NOT touch anything in there – motion sensors will charge to your room. Fortunately, was re-imbursed. Extra fee if request an in-room fridge, and resort refuses to empty minibar – claims they will "lock it for you", but did not lock minibar."
However in this review by Anita S, she describes the room service as such, "Really enjoyed room service. Delivered promptly at a super late time, and the food was great!" Reviewer Pam P. had a great experience with room service as well: "The service across the board during my 5 day stay for a conference was outstanding – from the restaurants to the stores to the cleaning crew to the fantastic rooms and room service.  Thanks for a great stay!"
Overall, reviews have been mixed. In regards to the minibar, it is noted in a lot of reviews that one should be careful as the hotel may accidentally charge you despite nothing being used. In regards to the room service, the reviews are reminders that room service will take a bit to reach you – so be sure to order well in advance.