Terrace Studio Two Queen Beds
Experience the Vegas vista from the Terrace Studio Two Queen Beds
Looking to luxuriate in the lively city of Las Vegas? Explore the elegant comfort with the bustling Vegas views framed by glass doors opening onto a palatial private terrace. Delight in the deluxe double queen beds with the signature expansive balcony for a satisfying stay at the Cosmopolitan of Las Vegas.
One room accommodation
4+ occupants
2 queen beds
Palatial private terrace
State-of-the-art kitchenette
Marbled bathroom with exquisite amenities

The Extended-Stay Studio Suite
The 620 square feet Terrace Studio is precisely perfect when travelling with family and friends, providing both privacy and pleasure. Commanding the signature Cosmo view from your 110 square feet private terrace, is a perfect spot to relax and have breakfast. If you are exhausted after an eventful day or a thrilling night out, you sure can knock off on soft sheets in this prestige suite with two plush queen beds. Richly designed with the vivacious vintage Vegas vibe for your sound sleep this comfortable, cosy and charged up space is complacently captivating.
Couch-on the Cosmo Comfort
The beautiful mirrored floor-to-ceiling walk-in closet space is spacious enough to room two people's belongings with an extra blanket and pillow meticulously arranged in a leather looking box. Additionally, on the other side of the closet there is the safety locker and an iron. The cute little sitting area with a couch and accessorizing them with trendy pillows gives a very modern and sleek feel to sit back and relax.
Get into your plush robe and experience ultimate indulgence in the marbled bathrooms with luxury toiletries by C.O Bigelow and the charming interior decor. The thoughtfully designed bathroom with double vanity sink, bathtub and the spacious shimmery wonderful shower area with exquisite accessories is luxuriously appointed.
Stylish Kitchenette for your Self-made Cuisines

Complement your convenience and comfort with formal dining facilities and fully fitted kitchenette including a microwave, dishwasher, sink, cool cabinets to place your goods and a Sub-Zero minibar stocked with the best beverages. Conjointly adding to the comfort enjoy the appealing array of amenities in this undeniably unique lavish Las Vegas hotel room. So when fun and facility is on the wish list then explore this Cosmopolitan Terrace Studio Two Queen Beds.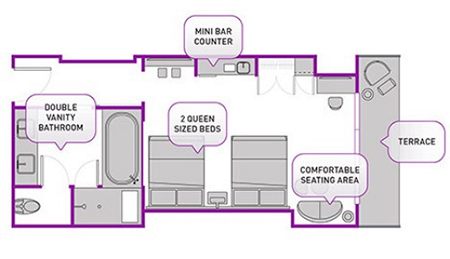 Source: Terrace Studio Two Queen Beds official page at the Cosmopolitan of Las Vegas

Amenities
Bathroom:
Hair dryer
Makeup /shaving mirror
Complimentary toiletries
Shower
Whirlpool Spa tub
Electronics:
2 LCD TVs
Radio
Telephone
In-room sound system
Alarm clock
Services:
Room service
Daily maid service
Wake-up Calls
Voice Mail
Premium bedding
Facilities:
Desk
Robes
Slippers
Iron / Ironing board
Mini Bar
Other:
Air conditioning
Climate control
High-Speed Internet Access: Wireless
Private terrace
Kitchen

Microwave oven,

Dishwasher
What guests say about Terrace Studio Two Queen Beds
VivianTravels gives us a sneak peek into Cosmopolitan's Terrace Studio Two Queen beds suite. She is instantaneously impressed with the beautiful wallpaper as she enters the suite that has a little bit of texture but the color is very modern and sleek.
The bedroom with two beds which she reveals "where the magic happens" is super comfy, super luxurious with top-of-the line bedlinen for a perfect night of rest after a long day at the pool or a wild night out. Another great feature that Vivian has been fascinated with, is the perfectly stocked fridge with spirits, wines, beers, soft drinks and energy drinks for the long night. Vivian vouches that everything is 'very well taken care of' and she is "very impressed with the hotel and is loving every bit of it".
Reviews
Reviewers claim that this stylish studio is classy, chic and comfortable. Luxuriously appointed the Terrace Studio with two Queen Beds is thoughtfully refined with all the modern amenities. So retreat in the comfort of this unique studio room in the company of your family and friends, and experience the Vegas thrill from your private terrace. Click here for more reviews
Feel free to leave a comment



Your feedback is important to us so we can continue providing you with travel information that meets your needs. Let us know if you have found the travel details you were looking for by rating your satisfaction with our page, or help us improve by leaving a comment below.