Terrace One Bedroom
Enjoy the Spectacular Vegas View from a Private Terrace
There's no denying of Terrace One's superiority when it comes to providing a high class hotel experience. One of the unique features of this 610 square feet room is the glorious sliding door that leads you to a 110 square feet of private terrace where you can enjoy fresh air topped with the awe-inspiring views of Las Vegas.
Two room accommodation
Max. 4 occupants
One king size bed
Peek-a-boo shower
Oversized private terrace
Japanese soaking tub
State-of-the-art kitchenette

Defining Glamour and Comfort
The moment you enter Terrace One Bedroom, you will find yourself in a spacious living area  equipped with high end furnitures and overall glamorous interior design. There is a super comfortable purple sofa furnished with soft silk cushions, 2 stationary lamps, a side table, arm chair and a classy surrounding composed with contemporary art works. Additionally, there is an office space that can serve either as  business or entertainment area with gorgeous Cosmopolitan cards, a phone, multicolored  pencils and a flat screen television over the desk.
The bedroom comes with a king size bed with standard white sheets, pillows and comforter. It has 2 modern bedside tables and built in medium size reading lamps on each side. Highlight of the room is the terrace that assures a magnificent view of the heart of Vegas and beyond. It comes with a small seating area perfect for a relaxing afternoon respite or perhaps a midnight viewing while enjoying a glass of fine wine.
The bedroom leads to a roomy bathroom space with a peek-a-boo design exposing a Japanese soaking tub with a pull-in curtain in case you need some bathing privacy. Overall, this room is suitable for couples who want to enjoy a romantic holiday in Vegas.
Sleek Room with a State-of-the-Art Kitchenette
Terrace One's sleek and oversize living area has its own state-of-the-art kitchenette offering a microwave, tablewares, a snack tray ,coffeemaker and a dishwasher. There's a mini sub-zero fridge that is well-stocked with alcoholic and non-alcoholic beverages. Be aware that the minibar comes with a sensor, therefore if you pick a drink up, your room will be automatically charged.
The dressing room, however, has two built in closets that are parallel to each other. These closets come with a safe box, shelves, iron, ironing boards, bath robes and extra linens for the bed to ensure extra comfort on your stay in this superior hotel.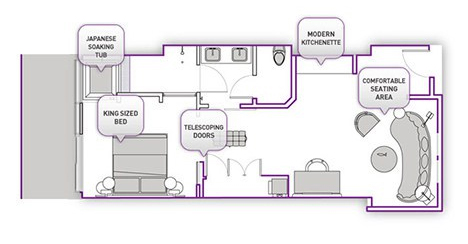 Source: Terrace One Bedroom official page at the Cosmopolitan of Las Vegas

Amenities
| | | | | | |
| --- | --- | --- | --- | --- | --- |
| Bathroom: | Hair dryer | Makeup /shaving mirror | Complimentary toiletries | Shower | Bathtub |
| Electronics: | Multiple flat screens with satellite television | Radio | Telephone | In-room sound system | Alarm clock |
| Services: | Room service | Daily maid service | Wake-up Calls | Voice Mail | Premium bedding |
| Facilities: | Desk | Robes | Slippers | Iron / Ironing board | Mini Bar |
| Other: | Air conditioning | Climate control | High-Speed Internet Access: Wireless | Balcony | Kitchen |
What Guests Say About Terrace One Bedroom
Dan Hions, a Youtube user who posted a video review of the hotel on January 1, 2015 highlights Terrace One's advantages from the convenience of having a hotel dishwasher to well-stocked fridge to its comfortable bed, bathtub and shower. "The shower has windows that go into the living room, very nice," states Hions. He recorded  the video at daytime but loud music can be heard from the surrounding area upon opening the glass door to the terrace. From the terrace there is a scenic view of Vegas bedecked with countless buildings and architectures covering the Las Vegas skyline. "This is a very modern hotel," states Hions before he ended his 5-minute video.
Reviews
Based on guest reviews made on TripAdvisor, if you are looking for a luxury hospitality experience in Vegas, Terrace One Bedroom is one of the rooms that will most certainly meet and even exceed your expectations. To read more reviews click here. To learn more about the room, you may also want to visit the official Cosmopolitan Terrace One Bedroom page here.
Feel free to leave a comment



Your feedback is important to us so we can continue providing you with travel information that meets your needs. Let us know if you have found the travel details you were looking for by rating your satisfaction with our page, or help us improve by leaving a comment below.