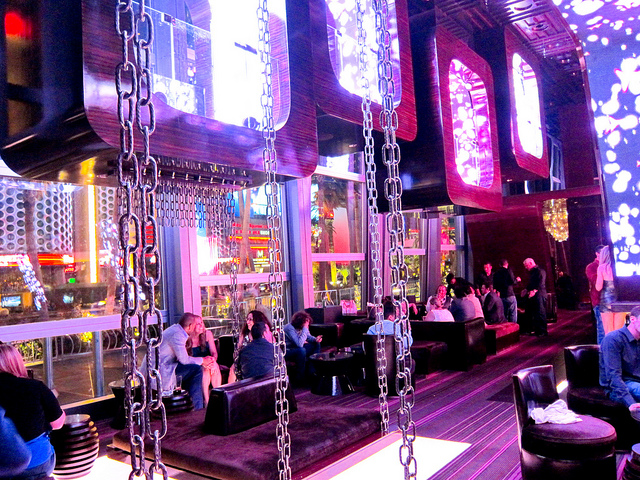 Bond Bar
Get BONDish at Cosmo's BOND
Want to enjoy a view of the Strip while having a delicious drink? Or maybe go dancing with your friends to music chosen and mixed by an awesome live DJ? Interested in surroundings featuring LED art or,  would you prefer to play games and gamble? Well, look no further: All of those wishes (and more) can be fulfilled at the BOND. You'll be shaken by the wide array of possibilities.
Lounge and cocktail house
Live DJ performances
Creative surroundings with LED art and games
Floor-to-ceiling windows overlooking the Strip
Professional Dancers
Handcrafted Cocktails
"Bridget Jones" signature drink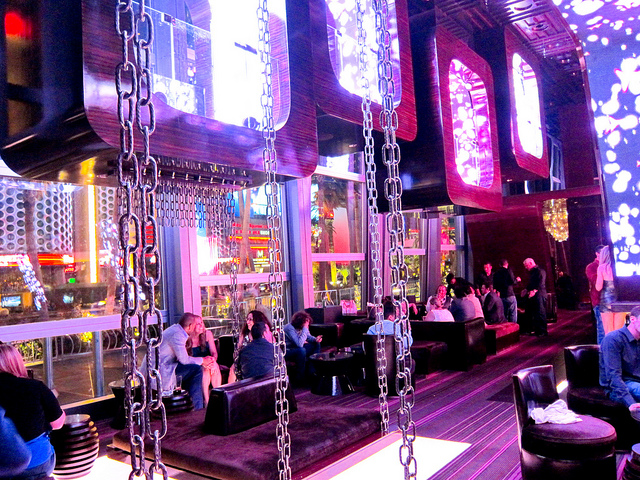 Source: Flickr. Author: Eric Wittman
Opening hours

Monday-Friday 11AM-5AM

Saturday-Sunday 10AM-5AM

Contact

702.698.7929

Location

Inside of the Cosmopolitan of Las Vegas, First floor, Eastside

Group Reservations

For groups of 10 or more, call 877-551-7776.  Or fill out, and submit, this form
"Bond, James Bond" – a familiar phrase? Except we are not talking about the movie, we are talking about the high-energy BOND cocktail house situated on the Eastside first level of the Cosmopolitan of Las Vegas. This flashy yet sophisticated club scene is one of Vegas hottest nightlife spots. With its dynamic LED art, live DJ gigs, exotic dancers and upbeat house music tunes the BOND will definitely blow your mind. To bring the cool and extravagant vibe forward this rhythmic night-spot is designed with custom daybeds, lounge chairs and elegant floor-to-ceiling windows presenting guests with some of the finest views over the Las Vegas Strip. The traditional Vegas gamble note is of course not left behind as you can also play video poker or try your luck at one of BOND's table games.
Strike a pose while sipping BOND's signature Bridget Jones drink, or try one of the many beautifully-crafted cocktails selected by award-winning mixologist Kristen Schaefer. And hey…Don't forget to get totally BONDish and order your fancy Martini shaken – not stirred.
Menu
The menu includes a wide selection of drinks which includes 11 different cocktails, 3 types of scotch, 2 types of tequila, 18 types of different brews and 12 types of wine.
For more info, check out the official drinks menu
Price Range
US $14-$15 for Cocktails
US $10-$16 for Wines
US $7-$11 for Brews
US $15-$20 for Tequilas
US $11-$19 for Scotch
Reviews
The trend among the reviews, both good and bad, seems to be the impressive view of the Strip through the floor-to-ceiling windows, and the great atmosphere of the lounge.
Where the reviews begin to differ is when it comes to the service and the seating arrangement, some of the seats being reserved for people who spend over a certain amount.. We see that in this Yelp review where Desi. D speaks about their experience at the BOND: "Very disappointed  in the service. Took us a while to find a place to sit because everything was 'reserved'. Once we sat down, a rude waitress told us they were closing off our area to have bottle service. I asked the manager where we should sit, and he pointed to the corner, because he said the previous area was for people who were spending $1000. Guess what- had we known that from the waitress, we would have stayed. I was so excited to come here. But service was lackluster."
On the other hand, Lynne L. shares the following on Yelp in regards to her experience at the BOND: "Not clubbers, my husband and I like Bond because it feels like fun while being chill. Lighting and atmosphere are really cool. On a weeknight last week, the DJ was spinning great 80sdancing music and some people took to the floor. Women in their window boxes are more like moving models than dancers, but still entertaining. Drinks are tasty, seating options are good and the location is perfect for people watching (windows overlook the strip and bar is open to the entrance and the casino). We look forward to visiting this place everytime we're in Vegas. Try the French Pickler."
Overall, BOND has favorable reviews both on TripAdvisor and Yelp, each site's average rating of the bar bar being very high, so why not give it a try?