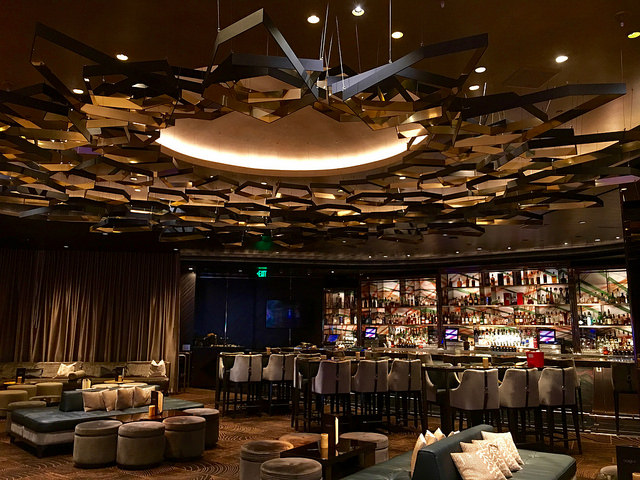 The CliQue
Come Visit the Mixology Masters!
Avant-garde and relaxation do not usually go well together but there is always an exception to the rule. That exception is the CliQue Bar and Lounge at the Cosmopolitan of Las Vegas.  Let their expert mixology team guide you into a world of relaxation and escape the dreary day-to-day life with their inventive snacks and live music.
Bar and lounge

Live DJs every Monday, Wednesday, Friday and Saturday at 9pm

Live music every Tuesday and Thursday at 9pm

Shows football matches Monday, Thursday and Sunday

Specialty drinks and side table mixology available

Specialty snacks available, guests are fans of the deep fried Oreos
Opening hours

Monday to Friday: 4pm to 3am

Saturday to Sunday: 12pm to 3am

Bar: Daily 4pm to 3am

Kitchen: Daily 4pm to 1am

General Contact

Phone: 702.698.7939

Location

First Floor, West End Tower

Group Reservations

For groups of 19 or less email [email protected] or call 702.698.7939

For groups of 20 or more, call 877.551.7776 or fill out this form
Social Media
Lounging in Style
Located on the casino floor of the Cosmopolitan, enjoy the CliQue Lounge and Bar with its luxurious interior designed by Alessandro Munge. Browse and be intrigued by the menu created by award-winning chef Brian Massie, which can be paired with the many handcrafted cocktails the CliQue has to offer. You have the option to sit back, relax and watch football games enjoy live DJ performances or experience live unplugged music in comfortable seats.
Menu and Price Range
In regards to the CliQue menu, it offers not only a wide selection of drinks but also snacks to quiet any rumbling stomach. The food menu contains items such as the classic choice of popcorn ($8) or perhaps the slightly fancier Mini Lobster Tacos ($19), as well as many others. For those with a sweet tooth, the menu also has a choice of two desserts: deep fried oreos, or a fried PB&J, at $9 each. As an added bonus, the CliQue added two floats, each at $20 – the "Not your father's root beer float", a simple float made with root beer and gelato, and the "Fuhgeddaboudit", a more intense float made with vodka, chocolate, ice cream and espresso.
The drinks menu offers an impressive selection. Other than the acceptable wine and beer choices, there are quite a few specialty drinks you can only get at the CliQue like the fresh pressed option which contains freshly pressed vegetables or fruits, for a perfect combination of health and decadence. Fresh Pressed drinks are all $20 each.
The CliQue specialty drinks section offers 18 different options of mixes, ranging between the prices $18 to $25. The most expensive cocktail, at $25, is the "Pinapplypse Now", a specially made mix of Absolut Elyx vodka, sherry, orgeat, lemon, orange and aromatic bitters. To top the experience off, this drink is served inside an Absolut Elyx Copper Pineapple.
If you are interested in seeing how your drinks are made and willing to go the extra bit in your budget, then the "Table Side Mixology" section of the menu is one you should check out.  Between $25 and $50, have the bar come to you and watch the magic of mixology as the drink of your choice comes to life.
You can see the whole menu here
Reviews
In reviews, CliQue gets a moderately high average rating on both Yelp and Foursquare. Guests really enjoy the snacks available, as mentioned in this review by Camille: " We had the Don Sandia which is a cucumber hollowed out with tequila, lime, and watermelon shot inside and you chase it with a small piece of watermelon! I also highly recommend the Dr. cel-Ray Pepper drink; light, refreshing, and spicy. But in all honesty, the fried Oreos are the best thing ever invented, probably ever!"
On a negative note, many reviewers of the CliQue mention the drinks being too expensive and the service being quite slow. In this review by Dillan, him and his friends have bought $30 drinks and this is how he describes them: "When it was all said and done we waited around an hour to get 1 drink. (It was not busy at all BTW. We were there on a Monday night) We drank our drinks. Ok drinks. Tasted like a $10-$15 range drink."
Overall, the reviews are not as positive as they could be. Many reviewers mention the service being slow and the drinks being very highly priced. On the other hand, reviewers are happy with the food available at the CliQue.