What Guests Say about the Cosmo
Good and Bad Reviews of the Cosmopolitan of Las Vegas
Every guest wants a fabulous Vegas vacation so the Cosmopolitan of Las Vegas offers innumerable reasons to make your stay in Vegas a memorable one. From comfortable luxury accommodations with breathtaking views to stand-out dining spaces, chic nightlife hangouts, plentiful gaming options…the list goes on! Open since 2010, this luxury hotel is a guest-magnet, a precious Vegas gem. This is what guests say about their stay at the Cosmo: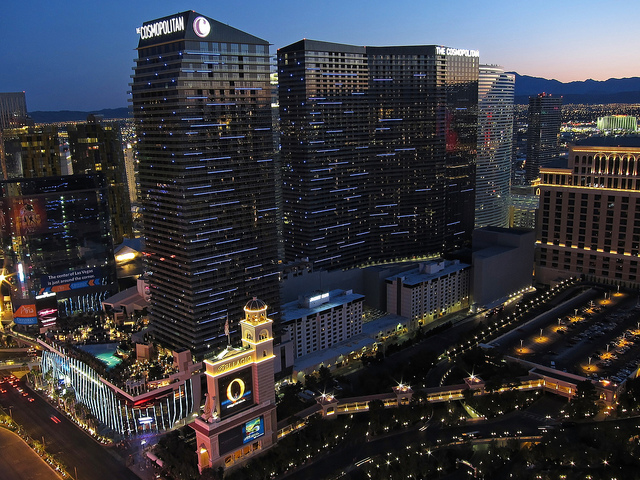 Source: Flickr. Author: Allen McGregor
The Cosmopolitan of Las Vegas Rating
On Hotels.com the Cosmopolitan of Las Vegas has more than 5,000 reviews and over a hundred photos. The Cosmo gets high ratings in most hotels.com reviews. Highlights are on the hotel's great location, great wellness, sports facilities and awesome vibe.
On TripAdvisor the Cosmopolitan of Las Vegas has more than 4,000 reviews and 5,000 photos and gets a generally high rating. According to TripAdvisor, Cosmopolitan's most frequent travel type are couples couples and the hotel's peak season is during the months from September to November.
 
On Yelp the Cosmopolitan of Las Vegas has more than 3,000 reviews, over 6,000 photos and an overall high guest rating reviews.

FOURSQUARE

283220 check-ins

Rating: 9.1

6189 Likes

On Foursquare the Cosmopolitan of Las Vegas has scored more than 5,000 ratings, over 800 tips and more than 10,000 photos.
 
On Google the Cosmopolitan of Las Vegas gets high ratings especially when it comes to the hotel location guest service, and facilities.
The Cosmopolitan of Las Vegas on Oyster.com
The Hotel-Tell-All review website oyster.com has a list of the pros and cons of the Cosmopolitan of Las Vegas. The top 10 pros listed by Oyster includes the Cosmo's three distinct pools, trendy dining options, spacious rooms with designer decors and modern bathrooms, the large, modern 24-hour fitness center and the phenomenal on-site spa and salon.  Completing the pros list are the trendy bars, lounges, and nightclubs, high-end shopping options, super sleek and futuristic lobby with iPad check-ins, the Sports Bar with big screens and video games and finally, the extremely well-equipped on-site FedEx business center.
On the cons list are 4 missteps from the hotel, namely, the Casino marble floors which is noisier than average, the daily fee for fitness center access, pricey on-site dining and lastly, the hotel's not-so-kid-friendly environment. Read more of oyster.com's review here.
Good Reviews
Being located in the heart  of the Strip has a lot of perks and most guests appreciate the spectacular view from their luxury accommodation in this modern and hip hotel. The Cosmo is also popular for its excellent services especially during business meetings, social gatherings and conventions as it provides ample venues for such events. No wonder it gets good reviews in terms of customer service. TripAdvisor reviewer robin3350 wrote how the Cosmo has  a striking difference compared to other luxury hotels in Vegas, "I smile every time I think of our trip to the Cosmopolitan. The place is spectacularly different from all of the other "luxury resorts" in Las Vegas." Yelp reviewer Duri H. seems to have a similar experience, "No other property on the strip beats the Cosmopolitan for me. Staying anywhere else doesn't even feel like an option anymore. I used to get excited about trying different hotels before – now, all other hotels disappoint in comparison."
Bad Reviews
Although rare, the Cosmo still gets bad reviews from guests every now and then. Most notable is the hotel's pricey dining and shopping options. Yelp reviewer Vincent T. shared an unpleasant experience he had while staying at the Cosmo, "with all the hype and kudos this place gets, I thought the Cosmopolitan was severely underwhelming: it was a disappointment. The small things that niggle like the desk light that doesn't work, and red stains on the sheets, really made the stay here a bit unpleasant." Another negative mention is from TripAdvisor reviewer Minty001, "not a cheap hotel so I expect good service and quality rooms with the "extras" but it doesn't deliver." The reviewer further mentioned the lack in customer care, "no bell boy to help with luggage from the taxi to reception or even up to the room…maid service just meant they make your bed, no attempt to clean the floor, fold your PJs, etc."
Read More Reviews
Want to read more helpful reviews? Check out the following pages:
The Telegraph for The Cosmopolitan of Las Vegas 9/10
Condé Nast – The Cosmopolitan of Las Vegas
Jet Setter Verified – The Cosmopolitan of Las Vegas
US News – The Cosmopolitan of Las Vegas
Expedia – Cosmopolitan of Las Vegas
Rock Subculture – Hotel/Resort Review – The Cosmopolitan of Las Vegas