Directions
Getting to the Cosmopolitan
There are many options in regards to getting to the Cosmopolitan. Are you driving yourself or flying? Maybe you're taking public transport. Perhaps you are wondering if a limousine service would work better for you, so you can really amp up the luxury on your trip. Maybe a taxi will do you just fine but you're not sure about prices and options.. But worry not: there are several ways to get to the Cosmopolitan while keeping your preferences and your budget in mind.
McCarran International Airport
McCarran Airport is the primary airport for Las Vegas and a starting point for many tourists and if you are flying with one of the major airlines operating in Las Vegas, you will arrive here. The airport is conveniently located about 5 miles to the south of the Strip and there are various transport services that can take you to the center of the city and the the famous resorts.
When arriving it is important to know where your carrier will land, as the two commercial terminals of the airport are not physically connected. T1 hosts gates A to D and T3 – gate E. If you need to get from one terminal to the other, there are terminal shuttles to get you there. Find more info on the terminal shuttles here.
Driving to the Cosmopolitan

Perhaps you have decided to skip the airport all together and make a road trip out of your journey to the Cosmopolitan of Las Vegas. Looking for directions? Here are some links to help you make your journey to Las Vegas.
From Los Angeles (265 miles, 4 hours)
From San Diego (327 miles, 5 hours)
From Chicago (1752 miles, 25 hours)
From Phoenix (298 miles, 4½ hours)
From San Francisco (564 miles, 8 hours)
From Salt Lake City (425 miles, 6 hours)
From Denver  (753 miles, 11 hours)
Getting to the Cosmopolitan from McCarran Airport
By Car
Getting from McCarran Airport to the Cosmopolitan in a car takes around 10 minutes without traffic.
Public Transportation
Bus service is provided by RTC, to and from the airport. For more detailed route information, please visit the official RTC Website.
Public busses from McCarran to The Cosmo
Terminal 1
In terminal 1 you can find the following routes:
Route 108 – Paradise
Route 109 – Maryland Parkway
Westcliff Airport Express (WAX)
The bus stop is located on level zero.
Terminal 3
In terminal 3 you can find the following routes:
Westcliff Airport Express (WAX)
Centennial Express (CX)
The RTC bus stop at Terminal 3 is located outside of Departures on level 2, across from door 44.
Shuttles from the Airport
The shuttle services are popular and convenient way to get to the Strip, where the Cosmopolitan is situated. Shuttles are operated by different companies and you can find their stands on the west side of the baggage claim, where doors 7-13 are located for T1 arrivals. Or gates 51 and 52 on the Level Zero's west end of the T3 building for domestic travellers and east side for internationals.
The shuttle transport in Las Vegas is provided by different operators. To ensure a seat in the shared ride shuttle, don't forget to reserve your ticket with the operator at least 24hrs in advance. You can choose to book a shuttle service with:
Location: T1 Door 8 / T3 Door 51 domestic / T3 Door 57 international
Contact: 1.888.554.1156 or 1.702.444.1234
Location: T1 Door 9 / T3 Door 52
Contact:  1.702.739.7990 or 1.800.274.7433
Location: T1 Door 10 / T3 Door 52 domestic / T3 Door 57 international
Contact: 1.702.895.9976
Location: T1 Door 11 / T3 Door
Contact: 1.800.258.3826
Ride Sharing
Travellers can now also use the services Uber and Lyft for ride sharing purposes. The official phone apps for these services are needed in order to arrange a ride.
Drop off is allowed at the airport's departure curb at both terminals.
Taxi Service
If you are not a fan of the shared rides, you have the option to take a Taxi service around the Cosmopolitan or from McCarran. Taxi services in Las Vegas operate under the Nevada Taxicab Authority and what you need to know when taking a taxi is that:
There is a $2.00 charge for all fares from McCarran Airport.
Taxis are not allowed to take more than 5 (five) passengers at a time, including infants and children.
Not all taxis accept credit cards, so if you plan to use one, don't forget to ask if they accept this payment method.
You can find taxis at McCarran Airport as follows:
T1: Doors 1-4 on the east side of Baggage claim.
T3: Level Zero – 20 positions for west domestic side and 10 positions for east international side.
If you are taking a taxi from the Cosmopolitan, do not attempt to hail one – it simply does not work in Las vegas. If you are looking to get a cab, go to a taxi stand or call the taxi company for a pickup.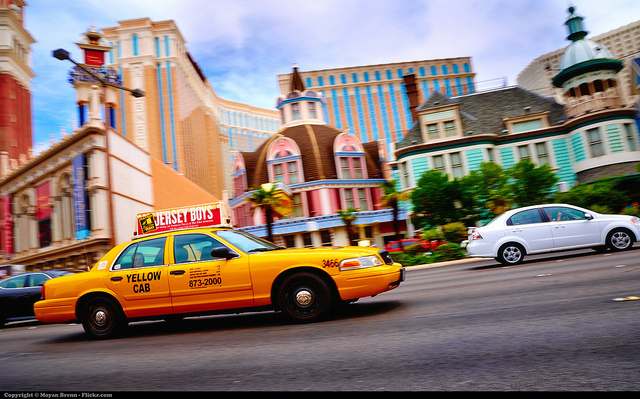 | | |
| --- | --- |
| Taxi Companies |  Phone numbers |
|  A Cab |  1.702.369.5686 |
|  ANLV |  1.702.888.4888 |
|  Checker/Yellow/Star |  1.702.873.2000 |
|  Deluxe Taxicab Service |  1.702.568.7700 |
|  Desert Cab Company |  1.702.386.9102 |
|  Lucky Cab Company |  1.702.477.7555 |
|  Nellis Cab Company |  1.702.248.1111 |
|  Western Cab Company |  1.702.736.8000 |
|  Whittlesea/Henderson |  1.702.384.6111 |
Car Rental
If you wish to rent a car, several options are available for you. You can either rent directly from the McCarran Rent-A-Car center which is located 3 miles from the airport at 7135 Gilespie Street,  or contact rental-car companies that arent represented at the McCarren rental car center. Those companies will pick up customers at the Rent-A-Car center as well, if you are coming from the airport. A shuttle bus to the center is available from level 1, outside of doors 10 and 11 in Terminal 1, and from Level zero, outside West doors 51-54 and East doors 55-58 in Terminal 3.
McCarran Rent-A-Car opening hours – 24 hours a day.
These are the car rental companies you can find at the McCarran Rent-A-Car Center.
Directions from McCarran Rent-A-Car Center to The Cosmopolitan
Without traffic it takes somewhere between 9-14 minutes to get to the Cosmopolitan from the McCarran Rent-A-Car center, depending on the route you decide to take.
Limousines
If luxury and comfort are your priorities, then you will be happy to hear there is the option of a walk-up limousine service, in the style of Sedans, SUVS and of course the classic Stretch limousine. This limousine service is available outside of exits 7-13 in terminal 1, on the west side of the baggage claim area. If you arrive in terminal 3, the limousine service will be outside on level zero, on the east side if you are an international traveller, and the west for domestic travellers.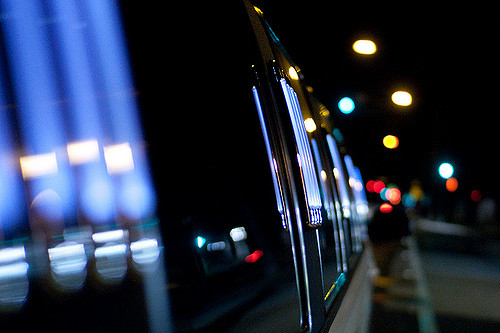 Source: Flickr. Author: Kenneth Lu
You also have the option of having your hotel or resort make the arrangements for a limousine service in advance and in the case that you are travelling by plane and arriving at the airport, you will get the added bonus of being greeted by your driver at the arrivals where he will help with your bags and make sure you don't get lost on your way to the luxury vehicle which awaits.
Limousine Services
Contact information
 Bell Limousine
Website

1.702.274.7473

1.800.739.7990

 Las Vegas Limousines
Website

1.888.696.4400

1.702.888.4848

 ODS
Website

1.702.789.3098

 Presidential Limousines
Website

1.702.744.7979
The RTC Paratransit
Also available is the RTC Paratransit, a service for travellers who are unable to use the fixed-route system because of a disability, and who have been deemed eligible through either a valuation process or documentation. For more information about the RTC paratransit, please visit the website.