Pets
Bring your best friend with you to the Cosmopolitan
If you are looking to bring your dog with you on your trip to Las Vegas, the Cosmopolitan can be your choice of a dog friendly hotel with a great location. All rooms at the hotel are dog friendly and you receive a complimentary BarkBox with treats and toys on arrival for your four-legged companion's enjoyment. The Cosmopolitan provides you with a map of the resort's relief areas and a designated dog area near the Bamboo pool. According to the hotel's pet policy, you can bring up to two dogs under 25lbs per room for the price of $50 per dog per night. The Cosmopolitan requires documentation for all recommended vaccinations of your pet on check in, so don't forget the doggy passport. In case you have to leave your dog unattended in the room, you are required to place them in a kennel for their safety.
Dogs are not allowed in the resort's food and beverage areas, the game areas, pool or fitness center areas, unless they are documented as service dogs.
The hotel permits only dogs and if you are looking to bring a different kind of animal, please contact the Guest Services at 702.698.7000 to check if this would be possible.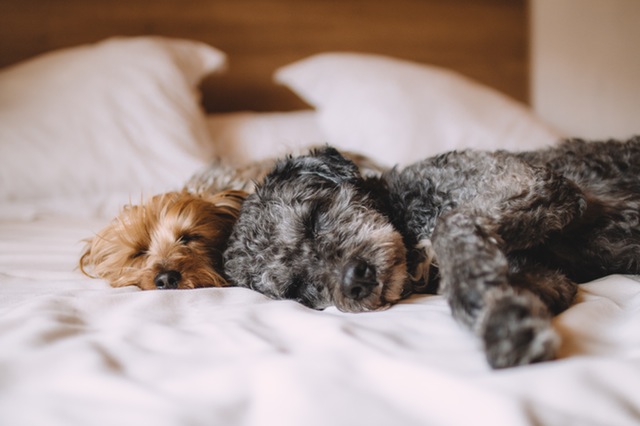 Source: Pexels
Pet Amenities

Complimentary Barkbox
All rooms are dog friendly
Food can be arranged through room service
A dog sitter can be arranged through the hotel concierge
Relief areas outside and inside the resort
Dog area near the Bamboo pool

Requirements

Charge of $50 per dog per night
Up to two dogs per room
Dogs must be 25lbs or less
No dogs allowed on the casino floor or in food, pool or fitness areas.
Document of up-to-date required pet vaccinations.
Kennel for unattended dogs
Helpful Things
If you are wondering how big a 25 lbs adult dog is, check out this Small dog breed guide.
For your convenience, we have created a doggy don't forget list before you travel to Las Vegas.
YOUR DOGGY CHECK-LIST
Water bowl and water for trip
Food bowl
Doggy bed
Doggy Snacks
Leash
Local kennel info
Up-to-date doggy vaccination passport
Favorite toy
Favorite blanket
Las Vegas is a bustling desert city and it could prove to be overwhelming for our best friends, thus it is always a good idea to have a few veterinary hospital contacts prepared in case of veterinary emergency. Check out our list of vets near the Cosmopolitan:
In Cases of Emergency
1. Las Vegas Animal Emergency Hospital
Address: 5231 W. Charleston Blvd.  Las Vegas, NV 89146
Phone: 702-822-1045
Opening hours:
Mon – Fri: 6:00pm – 8:00am
Sat: start at 4PM remains open until Mon 8AM.
Distance from Cosmo: apx. 2hrs walking / 15min by car / 1hr public transport
Address: 2385 East Tropicana Ave. Las Vegas, NV 89119
Phone: 702-736-4944
Opening hours:
24hr on-call emergency service.
Mon – Fri: 6am – 8pm
Sat – Sun: 6am – 5pm
Distance from Cosmo: apx. 1:20hr walking / 10 min car / 40 min public
3. Mountain Vista Animal Hospital
Address: 4675 E Flamingo Rd Las Vegas, NV 89121
Phone: 702-458-8808
Opening hours:
Emergency service available:
Mon – Fri: 7:00am – 7:00pm
Sat 8:00am – 5:00pm
Sun 8:00am – 12:00pm
Distance from Cosmo: apx 2hrs walking /20 min by car/ 34 min by public transport
Address: 1060 E Flamingo Rd, Las Vegas, NV 89119
Phone: Regular: (702) 734-1711. Emergency after opening hours (702) 457-8050
Opening hours:
Mon – Fri: 7:00 am – 6:00pm
Sat: 7:00am – 5:00pm
Sun: 10:00am – 4:00pm
Distance from Cosmo: apx 41min walking / 9min by car / 22 by public transport
5. St. Rose Animal Urgent Care
Address: 3255 St. Rose Pkwy., Suite 180 Henderson, NV 89052
Phone: 702.996.7927
Opening hours: 4:00pm – 2:00am
Distance from Cosmo: 3:20hr walking / 21min by car / 1-1½ hour by public transport
6. West Flamingo Animal Hospital
Address: 5445 West Flamingo Road, NV 89103
Phone: (702) 508-9664
Opening hours:
Mon – Fri: 8:00am – 10:00pm
Sat – Sun: 8:00am – 5:00pm
Distance from Cosmo: 1 hour walking/ 10 min by car / 25 min by public transport